Product Description

Why buy the GL840-WV?
The Graphtec GL840-WV data logger has been designed by the Graphtec Engineers for applications that require better temperature accuracy when measuring thermocouples and a higher common mode input voltage.
The higher common mode voltage input feature is great for monitoring battery banks where the individual cell voltage per channel is often low enough to be measured, but the combined total voltage of the battery bank may exceed the common mode voltage of the data logger.
E.g. We have 10 x 6 volts batteries connected in series. We can easily measure the 6 volts per channel individually(A in the image below), however, this scenario gives us a total voltage of 60 volts (B in the image below) if we measure from the first battery to the last battery, and this is the issue for many data loggers that have not been designed to monitor batteries. There is also and issue to ground for some systems too (C in the image below).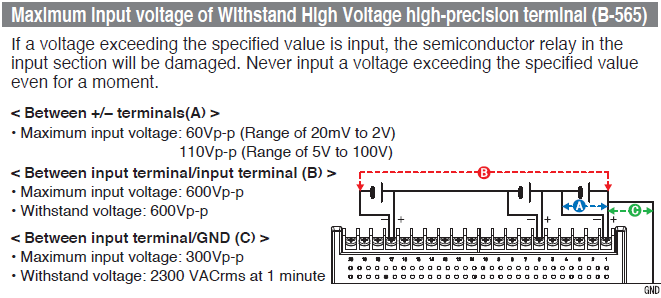 Graphtec GL84-WV summary
Type: General purpose data logger.
Channels: 20 - expandable to 200.
Inputs: Voltage, Current*, Temperature, Humidity and Logic I/O.
Speed: 10ms to 1hr.
Resolution: 16bit.
Data Storage: Internal 4GB flash memory.
PC Connection: Ethernet & USB 2.0.
Data transfer: SD memory card or direct to PC.
Power: Optional Graphtec Battery B-569 or External 8.5~24 volts DC.
Software: Software included and freely available via download.
GL840 Technical Specifications. Download
GL840 Quick Start Guide (26 MB) Download
GL840 Users Manual (21 MB) Download
GL840 Application Software Download
Options
Graphtec genuine B-569 battery.
Graphtec B-568 WiFi module.
Graphtec B-513 Logic Input/Output cable.
Graphtec B-530 Humidity probe.
GL840 carry case.
See expansion modules below.
Channel Input types
Input
Specifications
Voltage
Input voltage range
20 mV to 100V
Maximum voltage (Input to GND)
300 Vp-p
Temp.
Thermocouple types
R, S, B, K, E, T, J, N, W (WRe5-26)
RTD (Resistance Temp. Detector)
Pt100 (IEC751), JPt100 (JIS), Pt1000 (IEC751)
Flow
Total or Instantaneous pulse counting.
RPM
RPM pulse counting.
Accuracy
Voltage
± 0.05% of F.S. + 10uV
Temperature*
± 1.1 ºC
*Accuracy rating for K-type thermocouple at 100°C includes reference junction compensation. Accuracy varies by the temperature levels and thermocouple types. See this post about calibrating your Graphtec data logger.
Up to 200 isolated channels with multifunction input
The GL840-WV is fitted with 20 channels as standard. It can be expanded from 20 to 200 channels with the optional B-567 cables, B-566 expansion base plus either the B-564 or B-565 expansion module. A total of 500 channels can be monitored via the Graphtec APS software and up to 10 GL840-WV units can be networked as a complete data logging solution.
20 Channels

40

Channels



100

Channels



200

Channels



Graphtec GL840-M or GL840-WV Data Logger unit

1

1

1

1

Extension Cable B-567-05 or B-567-20
--
1
1
1
Channel Expansion base plate B-566
--
2
5
10
20Ch Expansion terminal B-564(GL840-M) or B-565(GL840-WV)
--
1
4
9
Example
If you required a 40 channel system. Please order the following items.
1 x GL840-M or GL840-WV data logging units.
1 x Extension cable B-567-05 or B-567-20.
2 x B-566 channel expansion base plate.
1 x 20Ch expansion terminal B-564(GL840-M) or B-565(GL840-WV).

Maximum sampling interval of up to 10ms
Voltage measurements can be sampled as fast as 10mS for one channel. Thermocouple measurements can be sampled at a maximum rate of 100mS for ten channels.
Sampling Interval
10ms
20ms
50ms
100ms
200ms
500ms
1s
2s
Number of channels
1
2
5
10
20
50
100
200
Measuring type
Voltage
Yes
Yes
Yes
Yes
Yes
Yes
Yes
Yes
Thermocouple
N/A
N/A
N/A
Yes
Yes
Yes
Yes
Yes
Supports SD memory card for reliable long term data storage or transfer
The Graphtec GL840 data logger supports one SD memory card slot for data storage or transfer. The SDHC type SD memory card is supported up to 32GB.
Binary or ASCII data file types
The captured data can be stored in GBD(Graphtec binary data) or CSV file format. The binary data format is more robust and a lot more compacted than the CSV format. The CSV format has the direct advantage in that it can be opened directly in MS Excel or other data analysis software programs.
| Sampling | 10ms | 50ms | 100ms | 200ms | 500ms | 1s | 10s |
| --- | --- | --- | --- | --- | --- | --- | --- |
| GBD format | 41 days | 88 days | 103 days | 207 days | Over 365 | Over 365 | Over 365 |
| CSV format | 3 days | 11 days | 16 days | 36 days | 91 days | 182 days | Over 365 |
*Figures are approximate. Maximum file size of captured data is 2GB in GBD or CSV file format.
Vivid 17.8cm(7") TFT colour LCD...
The bright, easy-to-read 17.8cm(7") TFT colour LCD monitor (VGA: 800 x 480 dots) makes it even easier to review measurement parameter settings, measured waveforms, and digital values.
All the GL840's functions can be accessed through the navigation cluster and LCD screen. Single touch buttons for such tasks as display mode, set up and logging start/stop negate the need for complicated menu trees.
Free Bundled PC software
The GL840-WV is bundled with PC application software that enables data logging directly to a PC. In addition to waveform monitoring, this software provides other useful functions such as direct writing of data to an Excel file and report creation. The software also provides a Help display function for enhanced usability.
Diverse measurement screens
Various display screens can be selected: Y-T, X-Y, Digital, Meter, and Report.
Multi-channel measurement
One GL840-WV data logger enables measurement on up to 200 channels at the device itself, and up to 500 channels when PC measurement has been specified. In addition, since the channels can be assigned to four display groups, they can be arranged according to the input type.
Convenient functions
A function that displays the logic alarm status during measurement and a password protection function are built in. Other convenient functions are the display of a CSV file batch conversion screen after captured data has been replayed and various data search functions.
Software Features
Configuration and channel set up via USB or Ethernet Real time data storage to hard disk.
Stored data import from GL840-WV.
Email notification of errors and alarms.
Available measurement modes: Y-T and X-Y.
Separate screens are available for each of the settings.
Direct Excel transfer can be enabled as a report function.
Remote monitoring via Ethernet; Web server/FTP functions
Your PC's Firefox, Opera or Internet Explorer applications can be used for settings, control, data monitoring and data acquisition.
The Web server function enables the acquisition of setting control data.
The FTP function enables the acquisition of data stored to the GL840-WV.
GL840-WV Main Features
20 input channels as standard, expandable to 200 channels.
Isolated multifunction channels for Voltage, Temperature or Humidity.
Inputs: Voltage (20mv to 100V), Thermocouples (K,E,J,T,N,R,S,T,B,W) and 4-20mA signals via external shunt resistor.
Optional Graphtec B-530 Humidity sensor is available.
Four pulse inputs and one trigger input. Optional Graphtec B-513 cable required.
16-bit ADC resolution.
17.8cm (7") colour LCD display (VGA: 800 x 480 dots).
Waveform and text display modes.
Easy-to-use keypad menu system.
Single open-collector alarm output.
Range of trigger functions.
Real-time statistical calculation.
USB 2.0 interface for PC connection.
Ethernet (TCP/IP) for PC connection and WEB/FTP server.
Optional Graphtec battery B-569 for portable operation.
Scan speed - Maximum.

10 milli Seconds for 1 channel.
20 milli Seconds for 2 channels.
50 milli Seconds for 5 channels.
100 milli Seconds for 1-10 channels.
200 milli Seconds for 11-20 channels.
500 milli Seconds for 21-50 channels.
1 Second for 51-100 channels.
2 Seconds for 101-200 channels
The GL840-WV includes the following:
GL840 protective rubber boot (B-578).
GL840 Quick Start Guide.
GL840-APS Software on CD.
Mains Power Supply - 24Volts DC.
USB Cable for PC connection.
Other Details
2 years warranty.
Product Videos
Custom Field
Product Reviews