Product Description
DataTaker DT80 Series 4 technical specifications. Download
DataTaker DT80 manual Download
Type: General purpose data logger.
Channels: 5 - 15.
Expandable: Yes - to expandable to 200 channels.
Inputs: Voltage, Current, 4-20mA, Temperature, Humidity, Strain Gauges, Logic, Rotary Encoders & Serial Sensor.
Speed: 100ms to Days.
PC Connection: Ethernet, USB & RS232.
Data transfer: USB memory device or direct to PC.
Battery Powered:Internally 2.5 hrs to 3 months or External.
Software: Software included.
Introduction
The DT80 is a stand alone, low power data logger that is often considered to be the Swiss army knife of the data logging world. Australian made!! Tough and Ingenious.
Simple to Setup
If you prefer point and click software for configuring your data logger, then the in built DEX software is for you. The DT80 can be quickly and easily configured for your day to day data logging tasks, and the online video tutorials make this task a breeze.
Integrated Solution
The DT80 can also be programmed to perform some very powerful tasks using the DataTaker command instructions set. Commands are sent to the unit via a terminal program such as DeTransfer or Windows Hyper terminal. The command instructions allow the DT80 to be configured for the more complex data logging applications where the DT80 is to be integrated into a system. Note, DeTransfer is free to download via the Thermo Fisher Scientific website.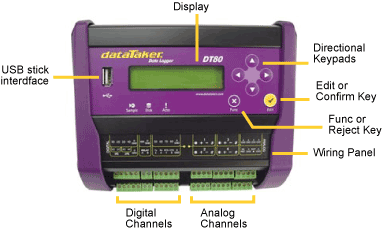 Multi Channel Inputs
Boasting multi input software selectable channels that support a range of sensors including thermocouples, PT100, Thermistors, DC voltage, current, 4-20mA loops, resistance, bridges, strain gauges, frequency and more... the DT80 will suit just about any project large or small. Using the CEM20 Channel Expansion Module, the DT80 can be expanded up to 100 channels or 300 two wire sensors.
Digital I/O
With eight bi-directional digital I/O channels the DT80 can be used to record when a switch contact is turned on/off or to control a small relay by turning it on or off. In addition there are four counter input channels for high speed pulse counting or Rotary Encoders. See the technical brochure for more details on the digital I/O channels.
Sampling Speed
Typical data logging sampling speeds range from once per second to once per hour. The DT80 can sample down to 100ms but this will vary up and down due to the number and type of channels you need to measure.
Real-time monitoring
The DT80 with it's various communications ports and free software makes real-time data monitoring a dream. Data can be viewed in real-time via the DT80's built-in web sever with the DEX software. Custom software can also be written by any Software developer to suit your specific requirements. DataTaker have freely available resource tools and drivers for Labview™ and Active X.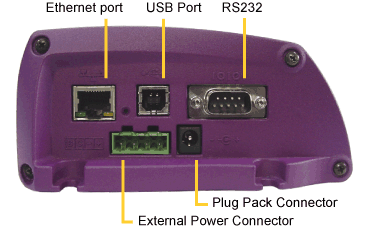 Remote data transfer
Remote data transfer via TCP/IP across a Local Area Network(LAN) or Wide Area Network (WAN) is a great way to access data remotely. The DT80 can be connected to just about any ADSL, Cable or 4G modem with a TCP/IP network connection allowing the the DT80 to be viewed anywhere around the world over the internet. A Virtual Private Network(VPN) also can be set up for data security if required. File Transfer Protocol(FTP) is an easy way to send data back to your web server or sever in the office. The DT80 can be configured to send data at a set time interval or when an event happens. The built in RS232 port on the DT80 can support PSTN or GSM modems for remote dial-in and dial-out or SMS Text messages and can be sent via the SMSX GSM modem.
Manual data transfer
Manual data transfer is simple with the DT82E, all you need is a USB memory stick and you're set to go. The data file can be in a binary format to protect your data or CSV which can be open directly in Open Office or MS Excel.
Analyse your data
DataTaker now supplies a copy of the popular DPlot software program with every new DT80. DPlot and DataTaker have produced a customer plug-in that allows DataTaker binary files to open directly with DPlot for analysing.
Data Logger or Data Acquisition
The DT80 is a true Data Logger that can operate as a stand alone unit and does not require a computer to record data. Like most data loggers, the DT80 can lean towards Data Acquisition but true Data Acquisition often requires much higher sampling rates than the DT80 can achieve.
A complete kit
The DataTaker DT80 includes all the standard accessories to get you going right away. One great advantage with the DataTaker range is that the software is supplied FREE on CD and it can also be downloaded from the DataTaker website along with any firmware and software updates.
Mains adaptor - 240volt AC to 15 volt DC, 800mA
USB cable
Resource USB memory device includes:

User Manual
Software
Video Tutorials
Technical notes
other resource
Conclusion
The DT80 is a truly flexible data logger that can be used in so many data logging applications, from basic applications using 10 thermocouples with manual data collecting to fully automated test fixtures with a variety of sensors and automatically printed test reports and data storage. So if you need stand alone, real-time, low powered, multiple channel, data logger with a difference, then the DT80 data logger from DataTaker is worth a look.
Other Details
3 years warranty.
Product Videos
Custom Field
Product Reviews