Graphtec Corporation, a leading manufacturer of precision recording and measuring instruments, has added the midi LOGGER GL900 —A5-size 8-channel data logger—to its family of data acquisition products. The midi LOGGER GL series are popular as the handy type logger, now; the GL900 is designed as vertical operation for customer's usage. Also the size is drastically reduced as an isolated high speed measurement equipment.
The midi LOGGER GL900 has an isolated 8 channel multi-function input for multi channel measurement needs. The maximum input voltage is 500 V DC, and it can be used for measuring temperature ( thermocouple) and humidity in the atmosphere. Separate from the analogue channels are a further four channels that use logic or pulse input. A BNC input connector for voltage measurement and an M3 screw in input terminal to the thermocouple are provided with the unit.
High Speed Data Collection
With 8 high-speed channels sampling data at a speed of 100 kHz using a 16 bit S/D converter, all channels are measured simultaneously. Using such high speed sampling, instantaneous tests such as the vibration, drop down and mechanical shock tests are easily measured. Downloaded data can be stored straight to a USB memory stick if using 1 kHz sampling. The new midi LOGGERS are also suitable for the environmental, tensile/compression and durability tests.
The best thing about the midi LOGGERS is its high speed that captures a lot of data that is stored easily within the memory. It has a large 5.7 inch color TFT LCD display screen for better functionality and to display and measure waveforms. The waveform function is easily expandable or reduced using the oscilloscope like operation. The unit has an easy to use curser operation that is popular in all the midi LOGGER GL models.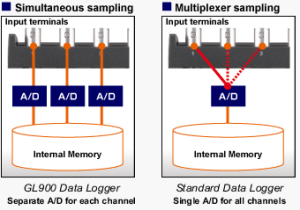 While the GL900 can be used for time-axis waveform display it can also be used as a multi-channel X-Y recorder. In this format a moving dot is seen on the screen even before the measurement begins.
Storage Capacity
The GL900 has an inbuilt 256MB flash memory and Ram that can store up to 1 million points of data. It also provides external storage the capacity to connect a USB stick.
The internal RAM stores the instantaneous data from the measurement of things like the drop down or mechanical shock test. For long-term storage the 256 MB flash memory or a USB stick is used.
The midi LOGGERS have USB and Ethernet interfaces provided as standard in the GL900 model. All measured data can be transferred to your computer during real-time using the software that comes with your midi LOGGER. Data stored on a USB stick can also be transferred to your computer when you are off line. What makes the midi LOGGER even more convenient is its network function that transfers data remotely through a Web browser without using any specialist software at all.