Product Description
The Graphtec GL100-WL is a compact Wireless data logger with features usually seen in the larger more featured units. Graphtec have aimed the GL100-WL at the typical applications that other data loggers in it's class can not perform. The GL100-WL can be battery(2 x AA) powered for up to two weeks, or you can run the GL100-WL from an external power supply for as long as required.
GL100-WL Features
It has built in WiFi !!
Type: Compact data logger.
Channels: Varies with input type.
Input via sensors:

DC Voltage.
Humidity.
Temperature - Thermocouple or Thermistor.
AC Current via clip on sensors.
Acceleration.
Carbon Dioxide.
Illuminance + UV.
Pulse and Logic I/O.

Sampling Speed: 500ms to 1 hour.
Data Storage: Built-in 4.9MB or Removable micro SD memory card.
PC Connection: USB 2.0.
Data transfer: Micro SD memory card, direct to PC.
Power: AA Batteries(non rechargeable) or USB cable.
Software: Software included and freely available via download.
GL100-WL Technical Specifications Download
GL100-WL Quick Start Guide Download
GL100-WL Users Manual (8 MB) Download
GL100-WL Application Software Download
The GL100-WL has no analogue inputs and requires one of the following sensor inputs.
GL100-WL Multifunction Inputs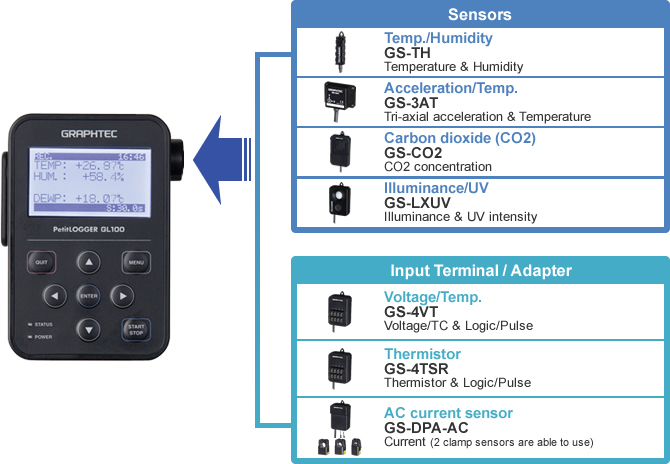 GL100-WL available sensors
No.

Input module

Measurement


Calculated value

1

GS-TH

Temperature, -20

ºC

to +85ºC.

Humidity 0 to 100% RH.

Accumulated temperature,

Dew-point temperature.

2

GS-3AT
Acceleration in 3-axis, max. 10 G. Temperature, -10

ºC

to +50ºC.
N/A

3

GS-LXUV
Illuminance, max. 200k lux. UV intensity, max. 30 mW/cm2.
Accumulated Illuminance, Accumulated UV intensity.

4

GS-CO2
CO2 concentration, max. 9999 ppm.

N/A

No.
Input module
Measurement Parameter
5
GS-4VT
Voltage, 50v DC or Temperature, Type K/T thermocouple, 4 channels + Logic/Pulse, 4 channels.
6
GS-4TSR
Thermistor, max. 120ºC, 4 channels + Logic/Pulse, 4 channels.
7
GS-103AT
Temperature sensor, thermistor type, -40

ºC

to +105ºC, use with GS-4TSR module.
8
GS-103JT
Temperature sensor, ultra thin thermistor type, -40

ºC

to +120ºC, use with GS-4TSR module.
9
GS-DPA-AC
AC current + calculated instantaneous Power. Note, two inputs only.
10
GS-AC50A
Clamp-on current sensor, max. 50 amps AC, use with GS-DPA-AC module.
11
GS-AC100A
Clamp-on current sensor, max. 100 amps AC, use with GS-DPA-AC module.
12
GS-AC200A
Clamp-on current sensor, max. 200 amps AC, use with GS-DPA-AC module.

Free Bundled PC software
The GL100 compact data logger is bundled with PC application software that enables measurements directly with a PC. In addition to waveform monitoring, this software provides other useful functions such as direct writing of data to an Excel file and report creation. The software also provides a Help display function for enhanced usability.

Software Features
Simple connection to PC via USB or LAN.
Easy set up configuration.
Data import from the GL100 to PC.
Email notification of errors and alarms.
Available measurement modes: Y-T, Digital and Statistical/Log.
Real-time data to MS Excel reporting functions.
Export to CSV data file format.
GL100-WL Main Features
Plug-in sensors for different applications.
LCD, graphical monochrome with back light.
Easy-to-use keypad menu system.
Fast 500mS recording.
Automatic file backup to micro SD memory card.
USB 2.0 interface for PC connection.
Ultra small. Approx. 66 x 100 x 27 mm.
The GL100-N is supplied with the following items as standard:
GL100-WL Quick Start Guide.
GL100-APS Software on CD.
AA Alkaline batteries.
USB Cable for PC connection.
* External shunt resistor required. Just mention you need some and we'll include some with the sale.
Other Details
2 years warranty.
Product Videos
Custom Field
Product Reviews