Product Description
Type: High speed 600 volt DC or RMS data logger with 7" colour display. *See data sheet for full specifications.
Analogue channels: 4
Digital channels: 4
Analogue Input Type: Voltage, 4-20mA, Temperature.
Speed: 1µs to 1min. All four channels simultaneously.
Resolution: 16bit.
Data Storage:

Internal RAM (>1μs): Up to 4 million readings per channel.
Internal Flash (>1ms): Up to 194 million readings per channel.
External: USB or SD Card device, max file size is 4GB.

PC Connection: Ethernet or USB.
Data transfer: USB or SD card memory device plus direct to PC via a USB cable.
Power: Optional internal battery packs or via external 12~24 volts DC.
Software: Graphtec GL Connection software included free.
GL2000 Technical Specifications Download
GL2000 Quick Start Guide Download
GL2000 Users Manual Download
GL2000 Software Users Manual Download
GL2000 Application Software Download
Introduction
The GL2000 from Graphtec is a high speed high voltage portable data logger that samples on all four channels simultaneously.
Simple to Setup
Setting up the GL2000 is simple and can be done via the front panel and display on the unit itself or via the dedicated software that is freely supplied with every data logger.

With an impressive 17.7 cm (7") display, the GL2000 unit can be easily configured in the field or office without the need for a computer. Data can then be transferred to PC via a USB memory device or SD memory card.
Multi-function input with CAT III rating

Voltage, temperature, humidity, logic and pulse measurements can all be taken simultaneously in high speed.
CAT III - Suitable for measuring circuits connected to the distribution part of the building's low-voltage MAINS installation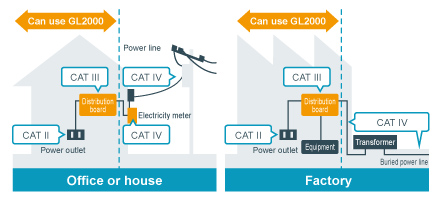 Digital I/O
With four digital I/O logic and Pulse channels, the GL2000 can record on/off events or count pulses from a range of instruments.
Simultaneous Sampling Speed
Most data loggers available on the market switch or multiplex channels into one Analogue to Digital converter, however the GL2000 has four separate Analogue to Digital converters. This allows the GL2000 to simultaneously sample and record data at speeds up to 1MS/S or 1μs on all four channels.

Example of 4-channel analogue measurement
| | | | | | | | |
| --- | --- | --- | --- | --- | --- | --- | --- |
| Capture destination | 1μs | 100μs | 500μs | 1ms | 10ms | 100ms | 1s |
| Internal RAM | 40 sec | 400 sec | 33 min | 66 min | 8 hrs | 4.5 days | 46 days |
| Internal flash 3.9 GB | x | x | x | 54 hours | 22 days | 225 days | Over 1 year |
| External memory 4 GB | x | x | x | 59 hours | 24 days | 245 days | Over 1 year |
All times are approximates only.
Software
Software is supplied free with the GL2000 and updates can be downloaded from the Graphtec website when available. The software is full featured and can be used to configure the unit, display data in real-time via charts or text. Real-time data capture, data replay, X-Time and X-Y display/recording, Fast Fourier transform (FFT), and direct to Excel function are standard with the GL2000 software.

Real-time monitoring
Data can be viewed in real-time with the Graphtec GL2000-APS GL Connection software that is supplied with every unit or data can also be viewed via the GL2000's built-in web sever.

Remote data transfer
Remote data transfer across a Local Area Network(LAN) or Wide Area Network (WAN) is a great way to access your data remotely. The GL2000 can be connected to various ADSL/NBN, Cable or 4G modems with a TCP/IP network ports allowing the the GL2000 to be viewed anywhere around the world over the internet. A Virtual Private Network(VPN) also can be set up for data security if required.
Manual data transfer
Data can be recorded to the internal memory of the GL2000 or directly to an external USB memory device. The data file format can be recorded in Comma Separated Variable(CSV) so it can be opened directly with Excel or in a Graphtec Binary Data(GBD) format to protect your data. The GDB format can then easily be converted to Excel with the Graphtec GL2000-APS software.
Data Logger or Data Acquisition
The GL2000 is a true portable Data Logger in that it can function as a stand alone device and does not require a computer to record data. But with fast sampling speeds of up to 1 Million Samples per second, the GL2000 can also be consider a very handy and portable Data Acquisition unit.
Just add the sensors
The GL2000 is supplied with all basic items to get you up and running in no time. Just add a mix of signals or sensors and you will be recording great data in no time at all.
What do you get in the box!

GL2000 midi-LOGGER
GL2000 Quick Start Guide.
GL2000-APS software on CD or via download.
Power Supply - 24 Volts DC.
USB Cable.
To sum it up!
If you are looking for a bench top or portable data logger that can sample at 1MS/s simultaneously on four channels and measure voltages up to 1000 volts, then the GL2000 is the data logger for you. Like all Graphtec products, the GL2000 is will built and well equipped with full data logging features.
To compliment this great piece of kit is a nicely thought out GL Connection software package.
Other Details
24 months warranty.
Product Videos
Custom Field
Product Reviews