Signatrol
The Signatrol SL7000 data logger has a very flexible combination of inputs from a single temperature up to 4 universal inputs each of which can be individually configured to accept any combination of the following input types:
RTD / Pt100
Thermocouple (Types J, K, T, R, S, B, N)
4-20mA
mA
Volts
mV
Slidewire
Cu
Ni
All Signatrol data loggers in the SL7000 series are powered by a single user replaceable battery, the typical battery life is up to 6 years. With up to four universal channel data loggers and recording intervals from 1 second to 24 hours. Using the freely supplied TempIT software, the SL7000 series can be programmed to stop logging when the memory is full or over write the oldest reading.
The SL7000 features unprecedented accuracy, combining our extensive knowledge of instrumentation precision with data logging technology. High end resolution of 16 Bit for all universal inputs and a modular build ensures that the unit is competitively priced whatever the application.
An optional on-board LCD display shows selected channel information and the integral LED displays provide immediate scanning and alarm status information. The data logger can be set to start logging immediately, start on an event (either a trigger event or the exercising of an external digital input) or start with the application of an external magnet (provided). This feature enables loggers to be set up in advance of the mission by a supervisor and to be launched at the start of the journey / log period by an operator.
TempIT-PRO
TempIT-pro, contains all the functionality of TempIT-Lite but with the added benefits of a data table, multi-trace graphing, automatic calculation of mean kinetic temperature (MKT), automatic A0 and F0 calculations, export to spreadsheet function and the facility to email graphs anywhere in the world, assuming you have an Internet connection. Data is easily exported from the Signatrol data loggers to comma separated value format (CSV). That can be imported into spreadsheets programs like Microsoft Excel or Lotus 1-2-3.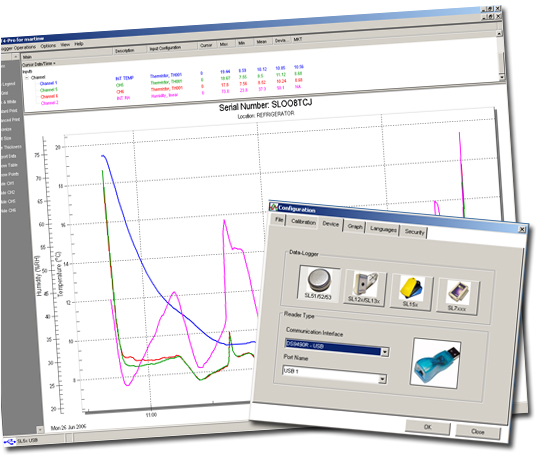 An in-built email facility enables graphs to be sent to remote locations. Emailing the graph is a useful function for goods inwards inspectors who need to have quality approval before accepting shipments.
Signatrol SL7104 technical specifications. Download
Signatrol SL7104 quick start guide Download
Signatrol SL7104 manual Download