Posted by Lontek on 15th Aug 2013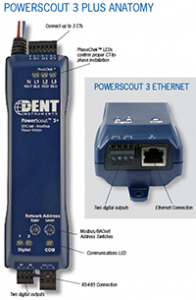 DENT Instruments is announces the PowerScout 3 Plus Ethernet enabled power meters.
The Dent PowerScout 3 Plus Ethernet model communicates using Modbus TCP or BACnet IP over standard TCP/IP Ethernet network. Ethernet networks have several advantages over RS-485 networks including faster response times, improved and greater remote access, and the ability to support more PowerScout devices on a single network. Additionally, the ability to use existing Ethernet infrastructure means that there is no need to install a separate network.
More information in the PowerScout technical data sheet. PowerScout-Brochure