Posted by Lontek on 4th Sep 2015
dEX for iPad and Android Tablets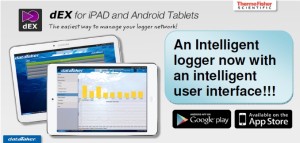 Lontek, an Australian DataTaker Distributor and Thermo Fisher Scientific are pleased to announce the release of dEX for iPad and Android Tablets for the DataTaker range of data loggers.
New Apple and Android Tablet Apps
Full programming and data retrieval functions from the mobile device
Improved Mimics performance compared with earlier versions of dEX
Setup and display logger data from anywhere
Multi-lingual support

New dEX Features
Important bug-fixes and UI improvements highlighted in package V9.18
Trend chart contains less data points and renders faster
NOTE: dEX Tablet applications are only compatible with 9.18 and above firmware versions Android Application is optimized for Tablets running Jelly Bean 4.1 and above and the screen sizes of 8 inch or above. iPAD Application Requires iOS 5.1.1 or later, and is optimised for iPAD Air 2.
New DataTaker 9.18 Firmware Features
Important bug-fixes and improvements highlighted in package V9.18
Support for 8GB+ USB sticks
Firmware Compatibility with Android Tablet and iPAD version of UI
Download links: http://www.datataker.com/downloadsDT80.php