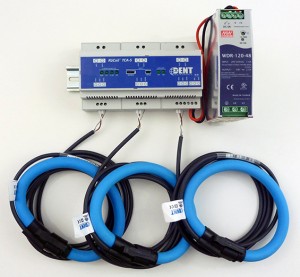 Dent Instruments are pleased to announce the all new RoCoil TCA-5. Customers who use 5 amp current input power meters will now be able to take advantage of the easy installation and broad current range coverage offered by RoCoil flexible current sensors.
The RoCoil TCA-5 is a three-channel integrating transconductance amplifier (TCA) that converts the mV output signals from the Dent Instruments RoCoil flexible current sensor to a 5 amp AC output current, emulating a traditional metering current transformers.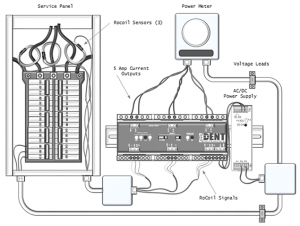 The RoCoil TCA-5 is factory-calibrated to work with DENT RoCoil CTs (131mV/1000A). The unit can be DIN or panel mounted.
The RoCoil TCA-5 is great for those applications where it's hard to fit a conventional 5 amp solid or split core current transformer.
You have options of four current ranges, 500 amps, 1000 amps, 2500 amps and 5000 amps. Plus you then have the option of four RoCoil lengths, 400mm, 600mm, 900mm and 1200mm. So the odds are we will have a solution for your next "hard to fit" metering application.
More information in the TCA-5 technical data sheet. RoCoil-TCA-5-Specs.