ACR Systems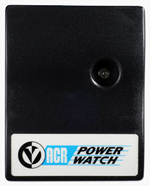 ACR Systems manufacture self powered, pocket sized data loggers. They measure and record a range of input signals.
PowerWatch
Power Quality 120V or 240V high speed Voltage Disturbance Recorders.
The PowerWatch recorder from ACR Systems is the simplest way record voltage spikes, dips or any voltage disturbances. Set your upper and lower voltage thresholds with the PC software, plug the PowerWatch in to any 240 volt Australian power point and you're away. You have your first event when the red light on the unit turns on.
Data Loggers - Current and Voltage Data logging Kit
Larger energy intensive industries in Australia have already seen how just the smallest increases in energy efficiency can result in large savings in greenhouse gas emissions plus the added benefit of improved competitiveness.

Small to medium companies also have the opportunity to save money and help the environment by better energy management using ACR data loggers.
The ACR Systems Data Logging kit is an ideal unit to monitor and improve your energy demands or load profile studies. Being purposed built for the application and widely used by Energy Management Consultants and Electrical Contractors throughout Australia, the ACR Data Logging Kit is perfect for your next energy audit or load profiling study.
Data Logging results from an Energy Demand Profile using the ACR Smart Reader Plus voltage and current data logger. To get you up and running quickly, Lontek offers the ACR Systems Smart Reader Plus 3 in Australia as a complete kit for measuring Mains Voltage & Current.
The kit includes:
ACR SRP3 data logger
Current Transformers
Voltage Transducers
TrendReader Software
USB Computer Cable
Soft Carry Case
ACR Systems SmartReader Plus Data Loggers
There are various models in the SmartReader Plus range: Thermistor, Thermocouple, RTD, RH%, Pulse, Voltage, Current(4-20mA), Pressure, AC current & voltage, Alarm module.
Features:
Up to 8 channels
12 Bit resolution (1 part in 4096)
Normal sampling rate, 8 seconds to 8 hours
Fast sampling rate, up to 25 samples per second
10-year battery life
32 K, 128 K or 1.5 MB(1,048,000 readings) memory
Accessible remotely by modem
Multiple loggers can be linked to form a network